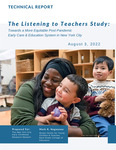 Description
This is the summary report for the second year of the Listening to Teachers Study which asks how early childhood educators in New York City (NYC) have been faring through the ongoing COVID-19 pandemic. The study's purpose has been to seek deeper understandings of what NYC's early care and education (ECE) workforce has experienced during the Pandemic to inform decision-making about the city's future ECE systems by raising issues for reflection and action-oriented discussion.
The study has followed a multistage, exploratory-mixed methods design, incorporating: 1) ongoing consultation with ECE stakeholders to incorporate questions of interest to them – and their reactions to emerging findings; 2) a survey focused on understanding nuances in the workforce and how these might relate to well-being and coping (June 2021, n=663); and 3) in-depth interviews with racially minoritized educators, given the Pandemic's disproportionate effects on communities of color (Spring 2022, n=28).
These data were analyzed through an iterative, constant comparative method that combined descriptive and inferential statistics with mixed deductive-inductive analysis of open-ended survey questions and interview transcripts. Among the key findings:
86% reported being affected by 5 or more (of 11) economic, health, social, and emotional stressors.
32% had a household income below $35K – in New York City.
FCC professionals far more frequently worked with infants and toddlers than other survey contributors; were weathering more economic stresses; and reported significantly higher rates of suffering and struggling.
61% reported not feeling burned out in June 2021; however, the odds of program leaders indicating potential burnout were 1.7 times higher than all others.
Support from supervisors and system representatives (e.g., coaches) reduced the odds of someone reporting potential burnout.
Publication Date
Summer 8-3-2022
Publisher
Straus Center for Young Children & Families, Bank Street College of Education
Keywords
Early Childhood, Workforce, COVID-19, Policy
Disciplines
Early Childhood Education | Other Educational Administration and Supervision
Recommended Citation
Nagasawa, M. K. (2022). Technical Report: Listening to Teachers Study. Straus Center for Young Children & Families, Bank Street College of Education. https://educate.bankstreet.edu/sc/12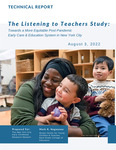 COinS