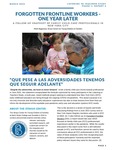 Description
This is the second in a series of reports discussing findings from a June 2021 survey sent to New York Aspire Registry members who work in NYC (n=663). It also follows up on Forgotten Frontline Workers, a report issued last year which focused on family child care (FCC) professionals' experiences earlier in the pandemic. The results discussed in this report come from a self-selected sample (n=97), and cannot be used to draw conclusions about all FCC professionals in NYC; however, their value comes from recognizing each of these participants' humanity and the important policy-relevant issues they raise for discussion:
Consistent with last year, FCC professionals were significantly more affected economically than other respondents
The odds of FCC professionals primarily working with infants and toddlers were 5.7 times higher than other survey participants.
79% reported negative emotional effects from the pandemic, with 77% saying they experienced 5 or more of the 11 stressors identified in the survey
Significantly fewer reported an optimistic future orientation and more reported that they were suffering or struggling when compared with other early childhood educators in the survey
While most certainly negatively affected by the pandemic, this group of FCC professionals was significantly less negatively affected emotionally than others.
46.3% agreed or strongly agreed that they received helpful support from a representative of the system (e.g., a coach, licensing consultant, etc.)
When considered in total, the findings in this report show a picture of fortitude in the face of very real economic, social, and personal stressors.
Publication Date
Spring 3-2022
Publisher
Straus Center for Young Children & Families, Bank Street College of Education
Keywords
Family Child Care, COVID-19, Well-Being
Disciplines
Early Childhood Education | Other Educational Administration and Supervision
Recommended Citation
Nagasawa, M. K. (2022). Forgotten Frontline Workers, One Year Later. Straus Center for Young Children & Families, Bank Street College of Education. https://educate.bankstreet.edu/sc/9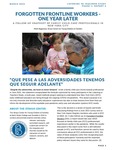 COinS