Volume 2, Number 1 (1989) Education Case Studies: What For?
From the Guest Editor
This issue of Thought and Practice is devoted to brief case studies of children learning, both formally and informally. The writers are Bank Street alumni, faculty, researchers, cooperating teachers and trustees. They play a variety of roles in diverse settings and at different levels of formal education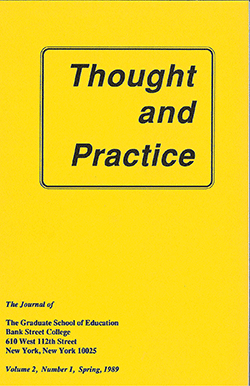 Editors
Guest Editor

Linda Levine

Editor

Gary M. Crow

Associate Editors

Marvin Cohen, Martiza McDonald, Elsbeth Pfeiffer, Syliva Ross, Y. Nona Weekes, Bernice Wilson

Production

Virginia Hoge, Ina Raikkonen, Nancy Thacker

Production Coordinators

Doreen D'Amico, Donna Smith
About Linda Levine
Linda Levine is an educational anthropologist and advisor in Museum Education at Bank Street. Formerly a member of the Special Education faculty at the College, she is particularly interested in helping teachers distinguish cultural differences from disabilities.