Number 26 (2011)
Toward Meaningful Assessment: Lessons from Five First-Grade Classrooms
This is a case study of six first grade teachers' responses to a performance assessment mandated in New York City Public Schools from 1998 to 2003. The study explores the nature of teachers' meaning making about reforms and its implications for the design of curriculum and assessment policy. The teachers came to see the assessment as a bureaucratic burden rather than as the rich resource for instructional improvement its developers intended it to be. The findings indicate that an emphasis on scrutiny and punishment is likely to diminish rather than enhance an assessment policy's potential to bolster teacher skill and student achievement.
The Leadership Perspective, Part 1
Part 2
The Classroom Teacher's Perspective
The Curriculum Consultant's Perspective
Articles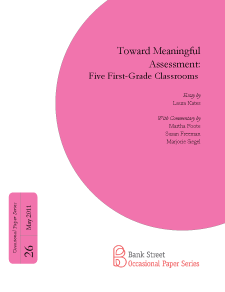 Essay
Laura Kates

Laura R. Kates is an assistant professor of early childhood education at Kingsborough Community College, City University of New York. She holds an EdD in curriculum and teaching from Teachers College, Columbia University, and an MSEd in early childhood and elementary education from Bank Street College.