Number 32 (2014)
Living a Philosophy of Early Childhood Education: A Festschrift for Harriet Cuffaro
Full Issue
Articles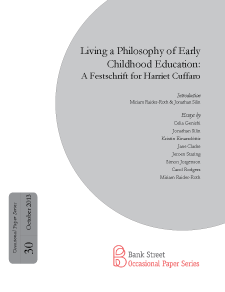 Editors
Miriam Raider-Roth
Jonathan Silin
Harriet Cuffaro
Dr. Harriet K. Cuffaro is an internationally renowned early childhood educator and scholar of John Dewey. Dr. Cuffaro began her lifelong commitment to children, teachers, and progressive education as an early childhood teacher at the Child Development Center and later at the City and Country School in New York City.
She joined the faculty of Bank Street College of Education in 1968, where she taught courses on curriculum, philosophy of education, and blocks and mentored scores of students for 30 years. In 1998 Dr. Cuffaro returned to City and Country as a staff developer and advisor, a role she continues to this day.
Dr. Cuffaro's numerous publications have foregrounded the voices of young children, the importance of open-ended materials for facilitating children's play, and the role of social studies in early childhood curriculum. She completed her master's degree at Bank Street in 1969 and her doctorate at Teachers College in 1982. Her landmark book Experimenting with the World: John Dewey and the Early Childhood Classroom was published in 1995.