Number 34 (2015)
Constructivists Online: Reimagining Progressive Practice

In this issue of the Occasional Paper Series, we reimagine progressive pedagogy within the framework of digital pedagogy and online practice.
Full Issue
Articles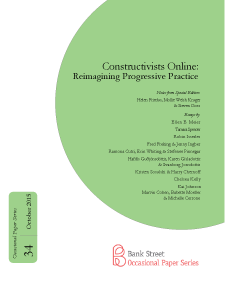 Guest Editors
Helen Friedus

Helen Freidus is a retired member of the graduate faculty in the Reading and Literacy Program at Bank Street College of Education. She is on the board of the Occasional Paper Series as well as a coeditor of this issue. Her Current research interests include the development of digital pedagogy, online classrooms in teacher education, and self-guided professional development. Forthcoming publications include "Building Community and Capacity: Self-Study and the Development of Social Constructivist Online Teaching" in Being a Self-Study Researcher in a Digital World: Future-Oriented Eesearch and Pedagogy in Teacher Education.

Mollie Welsh Kruger

Mollie Welsh Kruger is on the graduate faculty at Bank Street College of Education where she is an advisor and instructor in the Reading and Literacy Program. As a member of the Online Research Group (ORG), Mollie has extended her thinking about online teaching which she continues to explore from earlier graduate school entries to blended opportunities at Bank Street. Before joining the Bank Street faculty, Mollie taught in New York City elementary schools for more than 20 years. She is co-chair of the Bank Street College Children's Book Committee and provides professional development support to NYC Public School teachers and schools.

Steven Goss

Steven Goss is vice provost of digital learning at Teachers College, Columbia University. He joined Teachers College after serving as the director of online education at Bank Street College, where he helped to facilitate the institutional mission for online education. Prior to working at Bank Street, he led several online initiatives at New York University, including The Center for Faculty Innovations in Teaching and Learning at NYU-Poly, a center he designed and directed. He has taught diverse student audiences, including K–12, undergraduate, and graduate. He teaches courses closely related to his academic interests, including instructional design, project development, and user experience.