Number 27 (2012)
Challenging the Politics of the Teacher Accountability Movement
Toward a More Hopeful Educational Future
Guest editors Gail Boldt and Bill Ayers have asked 14 leading educators to address the politics of the teacher accountability movement in America. Who benefits and who is hurt? What is gained and what is lost? How can we move forward with a more hopeful and inclusive vision of our educational future?
All of the contributors are motivated by an abiding commitment to democratic ideals and respect for the complex work of teachers even as they encourage the reader to take back the conversation about school reform in America.
Full Issue
Articles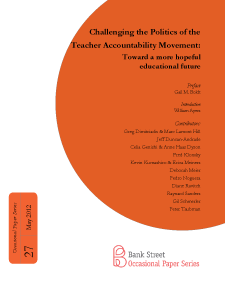 Guest Editors
Gail M. Boldt

Gail Boldt is an Associate Professor in the College of Education at Penn State University. She teaches in the undergraduate literacy education program and is the Professor in Charge of the Ph.D. program in language, culture and society. Her research interests include analyses of constructions of identity in school settings, the emotional dimensions of reading difficulties, literacy curriculum and children's subjectivities, children's popular culture, and narrative research.

William Ayers

William Ayers, formerly Distinguished Professor of Education and Senior University Scholar at the University of Illinois at Chicago (UIC), founder of both the Small Schools Workshop and the Center for Youth and Society, has written extensively about social justice, democracy and education, the cultural contexts of schooling, and teaching as an essentially intellectual, ethical, and political enterprise. He has authored 6 books, co-authored 3 books, most recently (with Ryan Alexander-Tanner) To Teach: The Journey, in Comics, and co-edited 3 volumes.